Australian's are getting older. Australia's elderly population (officially defined as those over 65 – I hear you saying that's not that old!) is expected to more than double by 2054-55.
When the baby boom generation kicked off in 1946, their life expectancy at birth was 66.1 years for a male and 70.6 for a female. That's only 1.1 years and 5.6 six years in retirement respectively. Fast forward, and the life expectancy of a male born in 2015 has increased to 80.3 years and 84.4 years for a female¹ (Figure 1). It is no wonder the government is progressively increasing the retirement age from July 2017.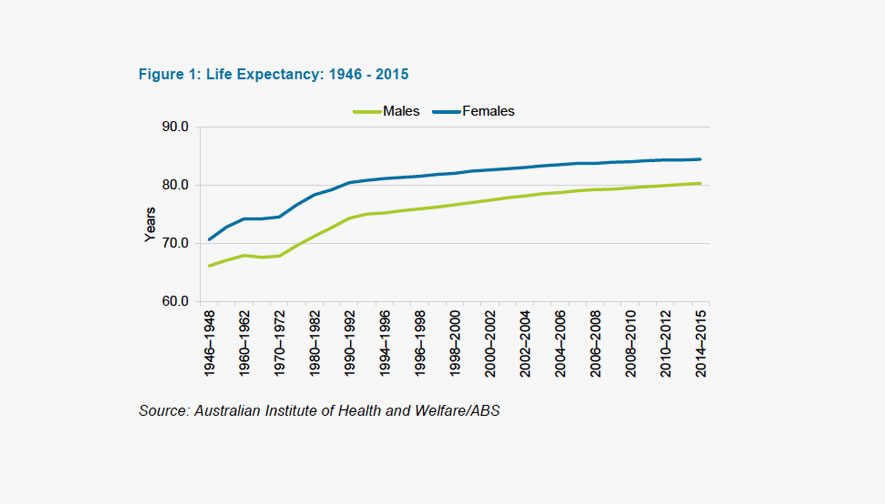 There are only six other countries worldwide where both men and women have a life expectancy over 80 years. Joining Australia are Japan, Italy, Switzerland, Iceland, Israel and Sweden.
We're living longer as a result of more healthy lifestyles and advances in medical treatment, better education, rising wealth and improved public safety. The last point is worth reflecting on. No doubt we've felt at times the "nanny state" has taken over and the Australian ethos of "she'll be right mate" has been suppressed, but just think how many lives have been saved because of the introduction of seat belts in cars and random breath testing, not to mention better workplace safety measures.
When the first of the baby boomers reached the retirement age in 2011, it was clear that this group was more educated, opinionated and wealthy than any previous generation and they were set to redefine what it means to be in retirement.
The baby boom wave entering retirement over the past five years is a mere trickle compared to what is coming over the horizon.
Within ten years, Australia's population will be approaching 28 million, up from 25 million now and double the population in 1975. By 2055 when Generation X (those born between 1963 and 1980) enter retirement, the population is forecast to increase to circa 40 million².
In 2025, there will be 4.9 million Australian's aged over 65, 600,000 of which will be aged over 85. The over 65's will represent 17.4% of the population (Figure 3). At the same time, the 0-14 year olds will represent 19% of the population. By 2055, 22.6% of the population will be over 65 (17.7% aged 65-84 and 4.9% aged over 85).
Back in 1975, the over 65's represented just 8.7% of the population, while the 0-14 year olds represented a massive 27.5% of the population.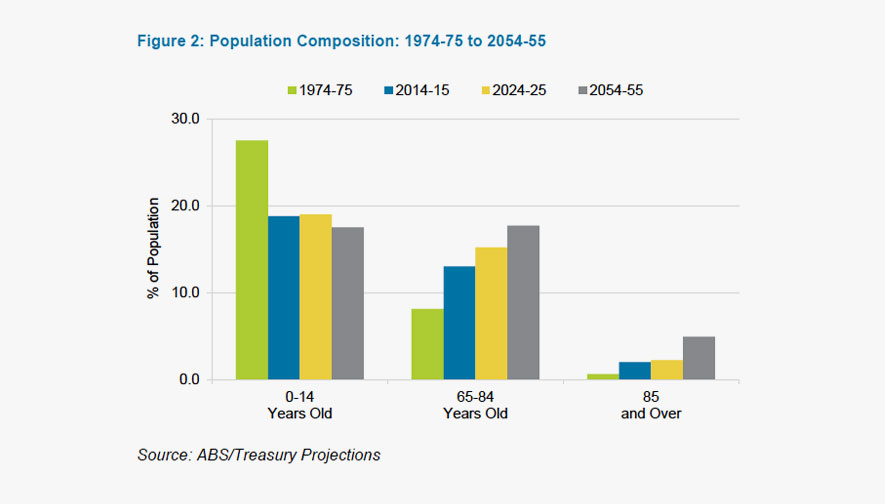 What are the ramifications of an ageing population? The two most critical being: 1) the changing composition of our workforce and 2) the increase in costs of servicing the growing demand for health and aged care services.
The ratio of working age people (people aged 15 to 64 years old) to support every person aged 65 and over is shrinking. Back in 1974-75 there were approximately 7.3 eligible workers to every retiree, by 2014-15 this had fallen to 4.5 and by 2024-25 it is expected to fall to just 3.7 (Figure 3). Look ahead to 2054-55, and it is forecast to be a mere 2.7.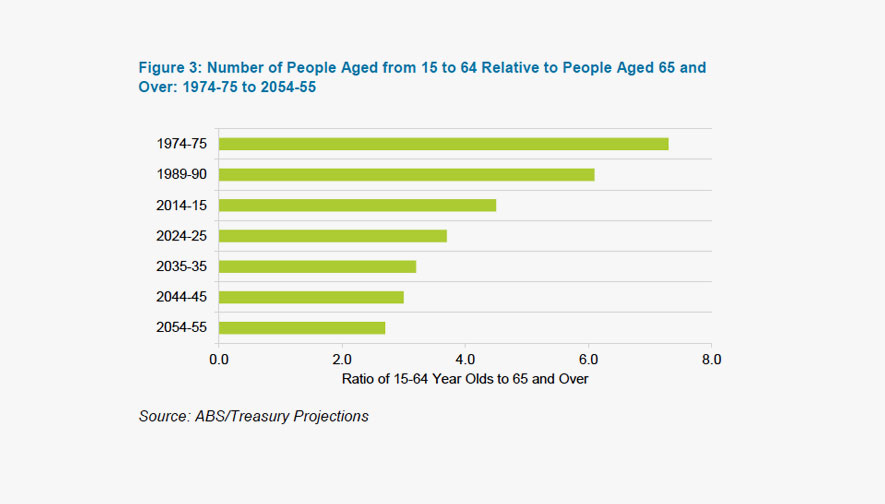 Despite the headline ratio numbers declining, recent employment numbers show that Australians, whether because they are healthy and have an active mind, or want to generate extra income (for many, compulsory super came late in their life and as a result they may not have saved enough to fund their retirement lifestyle), are opting to stay in the workforce longer – even if it is on a part-time or casual basis.
According to the latest employment data³, participation in the job market of the 65 years and over is 12.3% – a record high (Figure 4). The number of Australians aged over 65 still working totals 456,000, of which 198,300 are working full-time and 257,300 are working part-time. By 2054-55, Treasury expect the participation rate to increase to 17.3%.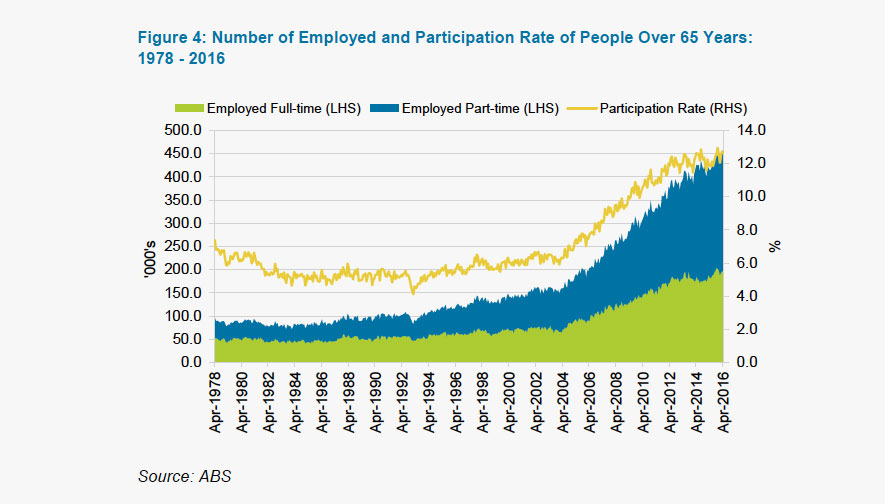 Australia's growing elderly population is set to drive up health and aged costs as a result of higher utilisation of health services and the cost of providing aged care services – both accommodation and home care.
According to the recent Federal budget, health costs are expected to increase from $69.1 billion to $79.3 billion by 2019/20 – a 14% increase, while aged care assistance is forecast to increase from $60.0 billion to $73.0 billion – a 22% increase°. The principal drivers of the substantial increases in aged care costs comes from income support for seniors (the pension), which is forecast to rise from $43.2 billion to $51.9 billion – a 20% increase, and payments for aged care accommodation support which is forecast to rise from $10.7 billion to $13.5 billion – a 26.1% increase over the next four years.
An ageing population won't be without its challenges. But, we cannot afford to let the considerable experience, skills and wisdom of older Australian's go to waste. We should embrace older Australian's as being more active and productive than previous generations rather than 'a burden' upon society. Also, the sheer number of retirees coming through will increase demand for a range of service industries including tourism, financial services, aged care, and personal care services to name a few.
Article by Adrian Harrington who is the Head of Funds Management at Folkestone. Folkestone is an ASX listed (ASX code: FLK) real estate funds manager and developer providing real estate wealth solutions. For more information visit their website folkestone.com.au.
Sources:
[1] ABS Deaths, Australia, 2014 – Cat 3302.0 and https://www.aihw.gov.au/deaths/life-expectancy/
[2] 2015 Intergenerational Report: Australia in 2055 – Federal Treasury
[3] ABS – 6291.0.55.001 Labour Force, Australia, Detailed – April 2016
[°] Budget Paper No. 1: Budget Strategy and Outlook 2016-17 – Federal Government – May 2016