Every person has an achievement or a passion for a theme in there life. Why not celebrate it by creating a personalised coffin via Expression's Design Your Own tool on the Expression coffin website.
https://expressioncoffins.com.au/design-your-own/
With this tool, you can create your own unique design for that special person in your life. Whether it would be from hobbies to sports. Expression's design your own tool can cater for all themes in life.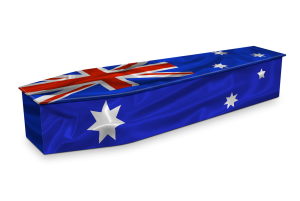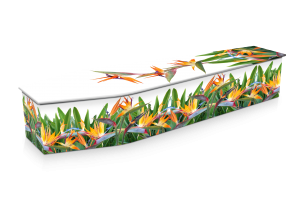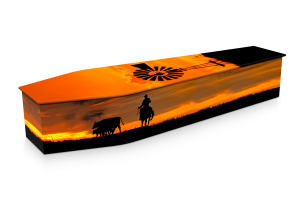 HOW TO USE THE DESIGN YOUR OWN TOOL:
Step 1:
Open the page – https://expressioncoffins.com.au/design-your-own/ on your web browser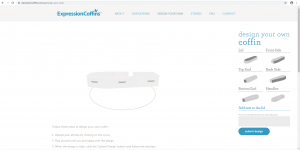 Step 2:
To start designing your very own personal coffin, click a section of the coffin on the right hand side of the page, this will load a window in which you are able to either upload an image or use a library image already loaded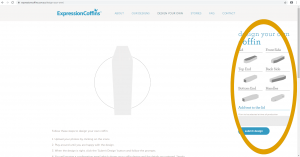 A window will open like this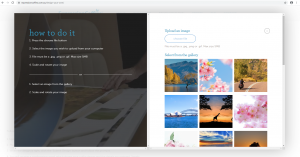 In this window you can choose whether you would like to use a library image or click "choose file" under Upload image (then follow prompts to upload your sourced image).
Once you have chosen your image, the preview panel on the main screen will change with your image now placed on the section chosen of the coffin (example below).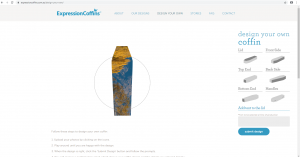 Repeat Step 2 for all sections of the coffin (Lid, Front Side, Top End, Back side, Bottom end) you may click handles on or off whether you like to see your design with handles placed on the coffin.
Step 3:
If you have any specific fonts (if you have wording in your design) you wish to use, please use the grey area provided to mention which fonts you like Expression to use on the final draft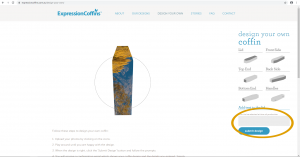 Step 4:
Once you are happy with the design and ready to submit this, please click submit design button down the bottom of the page. This will bring up a window which will ask for your details. Please be accurate as Expression use these details to get in contact with yourself or your funeral home chosen.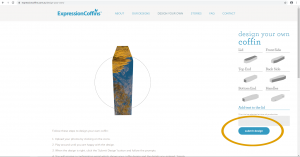 Then a window will pop up (fill in your details and hit continue)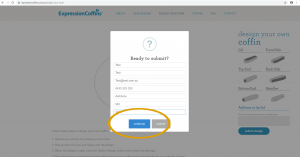 Once continue is clicked, another window will pop up asking if you like to choose a funeral director / home. Type in if you have chosen which funeral director / home to use and click submit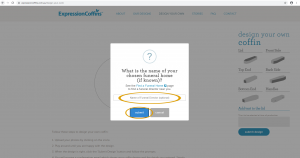 And that's it. You are all done. A window will pop up mentioning your design is rendering and images are uploading. Once this is complete a window will appear with your design in two different views. You may choose to download these images by simply clicking download preview. If you are happy with this, then click done and your design will be put forward to one of Expression's designers who will get in contact with the email you provided or funeral home you have nominated with the final draft.