We are delighted to announce that we are launching the Return to Sender™ range of coffins to Australia. Return to Sender are New Zealand's leading designers and manufacturers of contemporary coffins, catering to the growing number of people looking for less traditional, aesthetically designed coffins with an environmental focus.
Return to Sender's award-winning coffins are designed to ensure families are able to express what was important to their loved one through their coffin choice. Each coffin is handcrafted with care, from natural materials; made with the environment in mind; and allows for the expression of individuality and values.
What makes Return to Sender different?
Return to Sender believe in using design principles in support of the environment. A family that values beauty, design, creativity, integrity and nature will find a Return to Sender coffin is the perfect departing vessel.
Return to Sender use natural materials as much as possible – water-based colours, natural finishes, wool fleece instead of synthetic fabrics, corn starch and leather in place of plastic. Material use is kept to a minimum and clever design features such as timber locking mechanisms, reduce the need to non-decaying fixings.
Furthermore, Return to Sender coffins are part of our Memorial Tree Program, whereby a native tree is planted on behalf of the family when they choose one of these coffins. This becomes a living legacy of families' loved ones and helps in our quest to reduce our environmental footprint.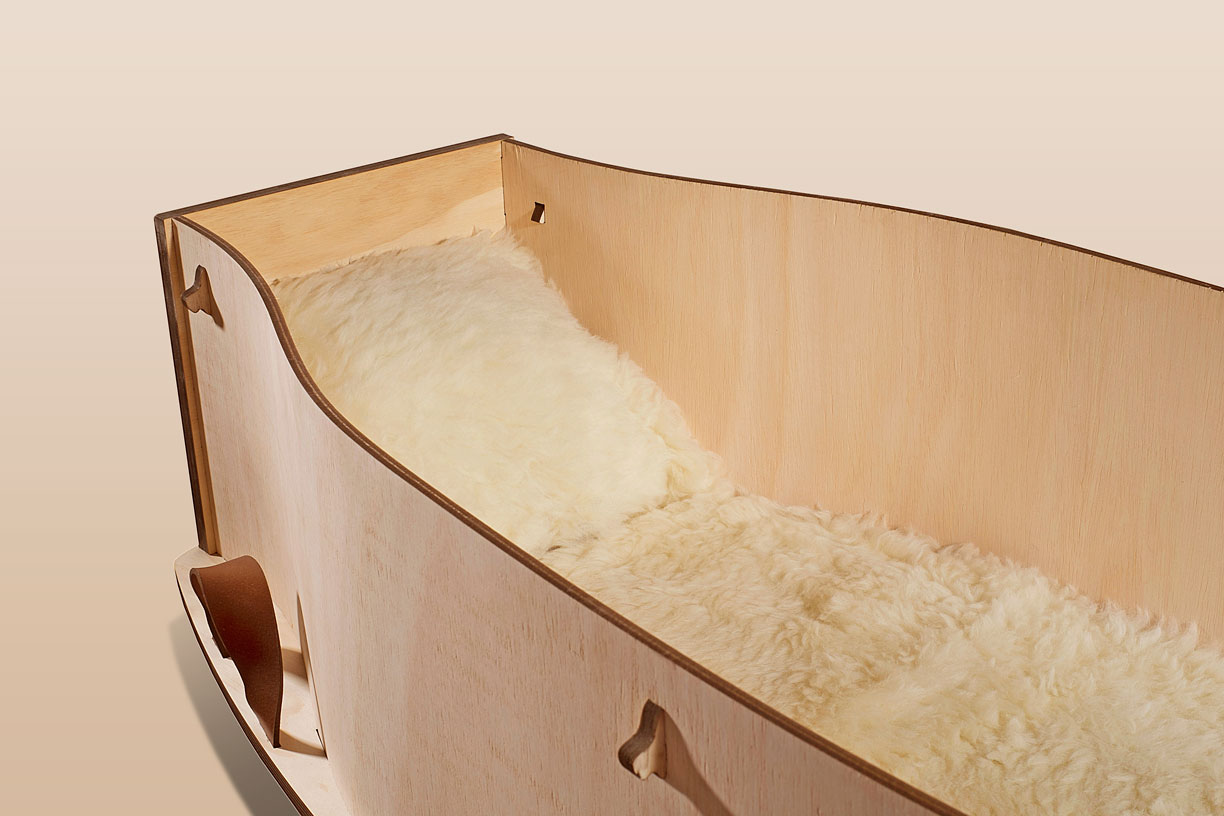 The Wayfarer design coffin
A lightweight modern coffin design, with a contemporary shape.
Constructed from laser-cut plywood from sustainably harvested forests.
Beautiful real leather handles and lid fixings.
Ultra-lightweight but very strong – a minimal elegant form.
Part of the Memorial Tree Program.
Internal dimensions L x W x D (cm): 191 x 56 x 29
Optional extras for the Wayfarer model:
Australian wool fleece mattress & pillow
Bamboo blanket
Nameplate
Crucifix
Contact us for more information
Return to Sender's award-winning coffins and accessories are available across Australia exclusively through Ashtons. For more information contact your state Account Manager or call us on 1300 263 346 (1300 COFFIN)
You can download the Return to Sender catalogue from our website's Resources section.